The Analytix Product Line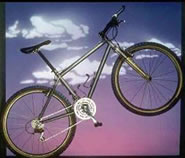 Our mechanical engineering products center around Analytix, a conceptual design and analysis tool. Analytix is useful in the first stages of design and analysis of a mechanical product, be it linkages or cams (with our Analytix/Cams product). You can also do forward dynamics analysis with Dynamix.
This bicycle was created with Analytix.
Analytix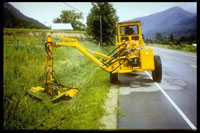 Analytix is a constraint based mechanism design package. It embodies unique features in that the constraints are used to model the physics of the mechanism. Analytix has been used by companies as diverse as Eaton Corp., Nordika and Polaroid to develop equipment from folding seats to camera shutter mechanisms to surgical equipment.
This mower was designed using Analytix.
Analytix / Cams
Analytix Cams is a visual cam design package that allows the user to define cam geometry in terms of follower motion or follower motion in terms of cam geometry. Analytix Cams is the only cam design package that allows you to embed your cam into a mechanism model.
Dynamix
Dynamix is a dynamical analysis add-on to Analytix. The unique feature of Dynamix is that the equations of motion are derived directly in terms of constraint accelerations and reaction forces. This formulation yields smaller and more stable differential equations.
Buy Dynamix now